Women's Day Special: Interview with our founder Niharika Bhargava
Posted by THE LITTLE FARM CO.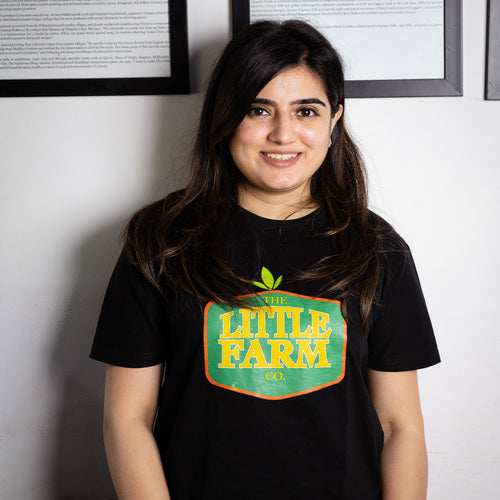 As we celebrate International Women's Day, it's a great opportunity to highlight the successes of female entrepreneurs.
Today, I had the pleasure of interviewing our founder Niharika, who has carved out her own niche in the business world.
Hi, thank you for joining me today. Can you introduce yourself and tell us a little bit about your business?
Hi, I'm Niharika and I am the founder and CEO of The Little Farm Co., that brings to you amazing varieties of pickles and chutneys made with the best of ingredients, without any preservatives that takes you back to the delicious home cooked food we all grew up eating.
That's a great motivation. How have you been able to navigate the challenges of entrepreneurship in this field?
It hasn't always been easy, initially it was seen as a hobby, but it has come a long way from there. It is definitely full of challenges to run a business, but it's been immensely gratifying to see my dream turn into my reality. And words can never capture the happiness I get to be able to support female employees and their families because of it. I've also worked hard to build a team that is diverse and inclusive, which has been a big factor in our success.
That's fantastic. What advice would you give to other women who are thinking of starting their own business?
I would say to just go for it. It can be scary to take that leap, but the rewards are well worth it. Surround yourself with people who believe in you and your vision, and don't be afraid to ask for help when you need it. And most importantly, believe in yourself and your abilities. You are capable of achieving great things.
Thank you so much for sharing your insights and experiences with us today. It's been truly inspiring to hear about your journey as a female entrepreneur.
In conclusion, this interview with Niharika, a successful female entrepreneur, highlights the importance of representation and support for women in business.
As we celebrate International Women's Day, it's crucial to recognize the achievements of women like Niharika, who have overcome obstacles and persevered through.
Niharika's story also demonstrates the power of networking and creating an inclusive workplace culture that fosters growth and success for all. Her advice to other women who are thinking of starting their own businesses is empowering and encouraging.
As we continue to strive for gender equality and inclusivity in all areas of society, let us celebrate the successes of women entrepreneurs and support them in their endeavors.
Together, we can create a more equitable and just world for all.
In the spirit of togetherness and to support the women in business, you can go check out our pickle collection.