Behind the scenes of pickle making with an Indian pickle artisan
Posted by THE LITTLE FARM CO.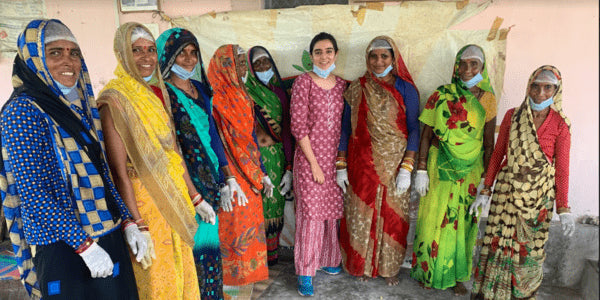 Pickles are an integral part of Indian cuisine and have been enjoyed for generations. However, most people are unaware of the journey that pickles take from the farm to their plate.
The Little Farm Co. is a company that offers handmade, organic, farm-fresh, and preservative-free pickles, chutneys, dips, salad dressings, and other products.
The company's commitment to quality and authenticity is what sets it apart from other commercial pickle brands.
You can check out our pickle collection at Homemade Pickles and Chutneys – The Little Farm Co.
How to make pickles?
To understand the process behind The Little Farm Co.'s pickle-making, we spoke with one of the artisans, Shyam Bai, who has been working with the company for three years.
She shared that the farm uses natural preservatives and avoids artificial sweeteners, opting instead for khand and jaggery powder. The farm also uses sugarcane vinegar, freshly cold-pressed mustard or sesame oil, and pink salt, rather than synthetic vinegar or white salt.
The fruits and vegetables used in the pickles are allowed to ripen naturally and are plucked just two hours before the pickling process begins. Sun-drying is also done by hand, and the women do not use any electronic gadgets in the manufacturing process.
As the production expands, they are gradually incorporating some mechanization in certain processes, such as chopping.
Now, we understand that all these products produced at the farm are healthy and organically produced but does that decrease the shelf life of the pickles?
To which Shyam Bai explained that they use natural preservatives, so that the pickles don't spoil. Instructions on the bottles also warn against using a wet spoon and to keep the bottle away from water.
What makes The Little Farm Co. pickles so unique?
The founder of The Little Farm Co., Niharika believes that the effort and love that goes into making the pickles is what sets them apart from other products.
The ingredients are grown on the family farm located in MP's Paharapurwa village, which spans 400 acres and is surrounded by government-owned forestlands and a river, providing a natural source of water. The farm produces most of the ingredients it uses, with the few it cannot grow sourced from organic suppliers.
In conclusion, The Little Farm Co. offers a unique and healthy alternative to commercial pickles, with a focus on quality, authenticity, and tradition. The Little Farm Co. offers a unique and healthy alternative to traditional pickles, using only natural ingredients and preservatives to maintain the quality of their products.
There is a story and flavor behind each jar of our pickle. We hope you enjoy the homemade taste as much as we enjoy making it for you :)